Welcome to Omaha Spine Center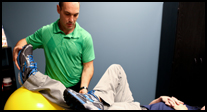 Omaha Spine and Sport, Functional Chiropractic Center was started with the vision of providing Omaha and surrounding areas with unparalleled chiropractic service and individual results. Omaha Spine & Sport offers innovative and advanced chiropractic care with functional rehabilitative medicine, cutting edge manual therapy techniques, and nutritional support to give you the most complete conservative care package possible. It is our goal to not only help you feel better and live pain-free but to empower every individual to start living healthier, more functional lives.
Supporting Sponsors...